iMediaEthics tried alternative images of the accused Boston bomber to test the visual result. The romantic Jim Morrison-esque image the Rolling Stone editor chose is in stark contrast to the alternative shot used above where instead of glamorous, the accused Boston bomber, Dzhokhar Tsarnaev, looks defeated and vulnerable.
The editorial board at the New York Times, called the reaction to the Rolling Stone Bomber cover "heat-wave induced" "hysteria," while comparing it to another cover Rolling Stone did years ago of cult leader and murderer, Charles Manson. However, iMediaEthics thinks Manson looks as crazied and wild-eyed as ever in his Rolling Stone cover moment from 40 years ago. Tsarnaev, unlike grizzled Manson, is shown as a beautiful young man bathed in soft light. Compare for yourself below. Couldn't Stone's editors have selected a photo that more accurately depicts who the man is and what he is accused of doing as opposed to the most idealized image?
To defend itself, Rolling Stone added an editor's note to its report, published in the wake of public backlash with CVS and other stores pulling issues off their magazine racks.
Rolling Stone stated,"Dzhokhar Tsarnaev is young, and in the same age group as many of our readers, makes it all the more important for us to examine the complexities of this issue and gain a more complete understanding of how a tragedy like this happens." But why the glam photo and what about the teen victims of his blasts?
Rolling Stone editors claimed in their note to be providing "serious and thoughtful coverage." Yet the controversy and pain it has resurrected is a measure of ham-fistedness and a lack of creativity.
Editors could have designed and distributed multiple covers for the same August issue, as magazines sometimes do.
One cover could still have been the glam shot of the perp. But another could be a cover shot of one of the teen survivors, like the one below from EveryJoe.com of Jeff Bauman.
The survivor could be used in contrast to tell two stories: the story of Tsarnaev and that of a contemporary, who is also a victim of the bombing.
Editors could have then engaged and at the same time creatively challenged readers and the public by asking: "You chose which cover to buy on newsstands and we will let you know which cover sells best. We have represented different views."
Now the public, with this experiment, can still ask itself the dark question of which they play a part, 'What cover would I buy among the covers below from a CVS shelf?'"
In the image above, instead of oozing movie star quality, the bomber looks more like a typical teenager on Facebook attempting, and failing, to look cool.
UPDATE: July 19, 2013, 2:49PM EST:   In reaction to the Rolling Stone cover, new photos were released by a cop who was on scene when Tsarnaev was arrested after hiding in a boat.  Sean Murphy, Mass. State Police, captured the image below that shows the suspect with a red laser target mark on his forehead after he lifted himself out of the boat. The craft was parked in a driveway where he was hiding following the deadly Boston Marathon bombing attack.
According to the Washington Post, "Murphy was apparently the only police photographer behind the lines during the hunt for the Tsanaev brothers." WaPo continued, quoting Murphy from Boston magazine:
"The truth is that glamorizing the face of terror is not just insulting to the family members of those killed in the line of duty, it also could be an incentive to those who may be unstable to do something to get their face on the cover of Rolling Stone magazine."
UPDATE: July 20,2013, 9:00AM EST:  Added information about New York Times editorial board comments and the image comparison between Charles Manson and the Boston Bomber Rolling Stone covers.
UPDATE: July 20,2013, 12:02PM EST:  Sgt. Sean Murphy, Mass. state police photographer, who released new images of the Boston bomber's arrest in reaction to the Rolling Stone's August cover, has been "supended."
AP reports, " ' State police spokesman David Procopio said in a statement that the agency did not authorize the release of the photos to Boston Magazine and will not release them to other media." AP further stated that Boston Magazine reported "on the magazine's website that Murphy was 'relieved of duty' and had a hearing next week."  CBS News further reported, according to the AP story, that Procopio told CBS News that "Murphy has been relieved of duty for one day and that he is the subject of an internal investigation" and "Murphy's duty status will be determined at a hearing next week."
UPDATE: July 20,2013, 7:38PM EST : Christian Hoard, Rolling Stone editor, blows his cool when rudely tweeting: "I guess we should have drawn a d*** on Dzhokhar's face or something?"  Fox News reported Boston.com wrote that Hoard deleted the offensive tweet and apologized the following day. Twitchy caught the deleted tweet.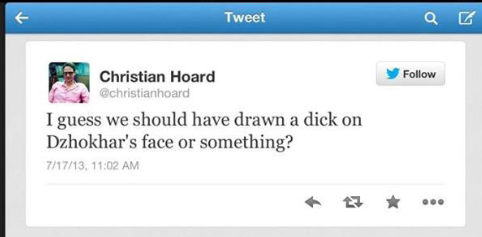 Hoard's two part Tweeted apology:  "Yesterday I made a sarcastic remark here in response to the RS cover controversy. I stand by our cover, but not my tweet – it was inappropriate and disrespectful. I'm sorry."
Yesterday I made a sarcastic remark here in response to the RS cover controversy. I stand by our cover, but not my tweet – it was (1/2)

— Christian Hoard (@christianhoard) July 18, 2013
inappropriate and disrespectful. I'm sorry. (2/2)
— Christian Hoard (@christianhoard) July 18, 2013
UPDATE: July 23, 2013,  3:34PM EST : NBC News quotes from the press release sent out by Massachusetts State Police today. The release was about the fate of Sgt. Sean Murphy, the police photographer who, without authorization, distributed images he took of the Boston bombers capture in protest of the Rolling Stone cover image. A retricted hearing on Tuesday resulted in Murphy being placed on "restricted desk duty" in the Division of Field Services, while an investigation takes place. He is transfered from the media relations office where he worked. NBC News also reported a "Save Sgt. Sean Murphy" Facebook page is attracting lots of support for the officer.
UPDATE: August 15, 2013: 1:05PM EST:  NBC News reports that Sgt. Sean Murphy, the Massachusetts State Police photographer who released photos of the bomber without permission, is back on patrol duty.  David Procopio, a police spokesman, told NBC by email, "It should be noted that this is not the result of any findings of this [an] internal investigation," Procopio summarized:  "He is under investigation for possibly violating departmental policy and regulations by releasing departmental material obtained in his media relations positions without authorization. Therefore, for the integrity of the investigation, he was removed from the unit."